---


Greetings everyone,

A new Legendary card makes its appearence on Eredan ITCG "Draconic Shakles" !

Through these chains you can, depending on the situation, silence one of your opponents by preventing him from chaining his cards, or protect one of your characters thanks to the damage reduction effect.





Draconic Shakles

Unique
Legendary
Item Other

Effects:
Choose a character and attach this card to him.
Cannot chain cards.
At the end of the turn all the other cards attached to the character are discarded.
-6 to damage points suffered.




"These unshakable chains forged in the fire of thousand-year-old Dragons, although created at first to imprison any ennemy, turned out to give them an ironclad defense."[i]

On this occasion, a Limited Edition Legendary Pack is available in store!

You have until Wednesday noon (CET) to find this pack in the store.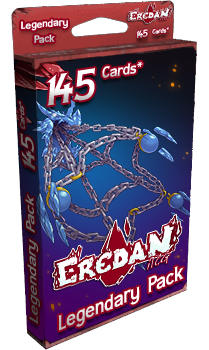 [i]The pack contains: "Draconic Shakles"+ 1 other Legendary card, 11 Rares, 48 Uncommons, and 84 Commons, selected from acts 5 to 13.[/b].
Also to be found in this offer: 1 Foiler card, 4 XP +100 cards, 1 XP +200 card, and 1 XP +500 card.

Have a good end of the week on Eredan iTCG!